uLinky BackupDrive
The free backup software for Windows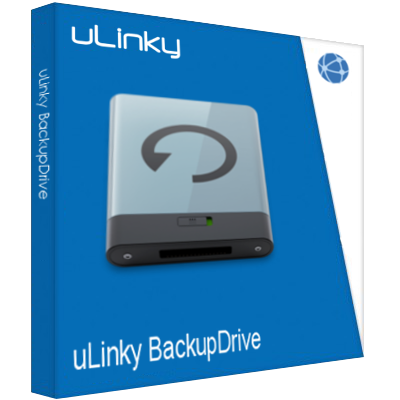 BackupDrive v1.2.0
Scheduled backups
E-mail notification
Backups over the network
Supports file transfers over FTP
Easy handling
For Windows 7, 8 and 10
Free Download
BackupDrive is a backup software for Windows. It allows instant and timed backups of your data. It does not matter if you want to copy your files to a USB stick, on an external hard drive or over the network to a server.
uLinky BackupDrive
BackupDrive is the simplest free backup solution. You can make backups on any mass storage device. Whether on an external USB hard drive, on a network drive or up to a FTP file server.
BackupDrive allows you to schedule on-time, easily manage backups, and email notification to keep you up-to-date.
Versions
BackupDrive v1.0.0 is the first version released. This alpha version contains only the basics of a backup software. Nevertheless, the software is fully functional and can be used free of charge. Version 1.1.0, which is a beta release, was released on August 17, 2018. It offers a easier operation and reaches better performance. With your feedback you can tell us what new features and enhancements we should add for future releases.
Features:
Scheduled backups
E-mail notification
Backups over the network (FTP, network drives)
Free updates
Backup administration
Full backups
Logging
Backup in the background
Backups as ZIP file exportable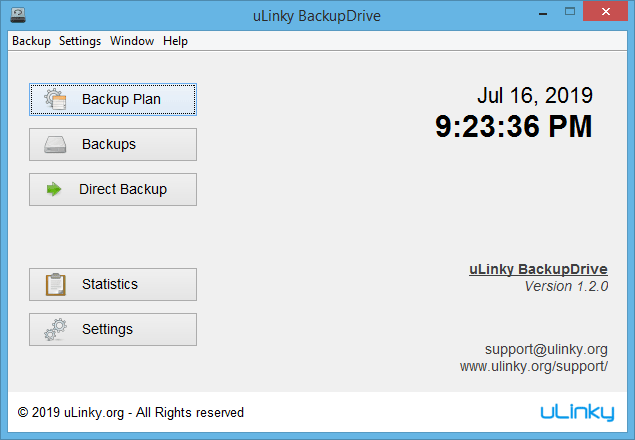 Service & Support
uLinky offers support for questions or problems when using BackupDrive. For this you can easily fill out the support form.
Alternatively, numerous documents about the software are available in the uLinky Docs. There you will find many instructions and help.
Data and facts about the development:
v1.0.0
v1.1.0
v1.2.0
Development period:
June 6, 2016 - October 12, 2017
July 30, 2018 - August 17, 2018
July 4, 2019 - July 10, 2019
Programming language:
Java
Java
Java
Lines of code:
13,745
14,020
14.356
Working hours:
450+ hours
61 hours
18 hours
Publisher:
Manuel Kienlein [18/Student]
Origin:
During the summer holidays 2016, I was very busy on programming my website. I did not use file versioning yet, and for all changes and milestones I copied the files to a folder as a backup instead. After a loss of data, I came up with the idea to develop an easy-to-use backup software.
The focus of BackupDrive is not just to create complete disk images, but to easily back up individual folders, files, documents and images. In addition, a clear listing and administration of the backups should be provided.
The program is available for free download. I would be happy if you could use the software as well and I hope you enjoy using BackupDrive.
~ Manuel Kienlein
System Requirements:
| | |
| --- | --- |
| Operating system: | Windows 7, Windows 8/8.1, Windows 10 |
| Java version: | 1.8 or newer [Download] |
| Processor: | Intel Pentium 4 or AMD Athlon 64 |
| Memory: | 2 Gigabyte (4 recommended) |
| Hard disk: | 5 Gigabyte (20 GB recommended) |
Share BackupDrive with your friends: